This Lamb Leg Recipe is a real crowd-pleaser. Really delicious and full of flavor it has the wow factor when presented as the main star of the show at the holiday dinner table. Tender lamb, flavored to perfection and the perfect alternative to serve at any holiday gathering.
Want something different than turkey or chicken for the holidays or a special occasion? Try this easy Lamb Leg Recipe for a true table centerpiece!
When you want a family meal that is delicious and delivers flavor then you can't go wrong with the Lamb Leg Recipe. The secret to making this lamb dish is the marinade. The aromatics of the herbs and flavorings work really well with the lamb and help to create a tender and flavorsome main dish.
You might be wondering how to roast a leg of lamb but the joint is a versatile meat that works well with so many side dishes and this is a simple recipe to make a very tasty meal.
It can be seen as an expensive cut of meat but you can enjoy it as a roast dinner with your family and friends and as the leg of lamb is a predominantly large joint of meat you will likely have tasty leftovers to work with the following day.
A great family meal that everyone is going to love. The perfect recipe for an Easter feast or an alternative crowd-pleaser at Christmas.
If you really love lamb recipes then we have a recipe you must try. This Gluten and Dairy Free Shepherd's Pie is super tasty. It is the ultimate comfort food and one the whole family is going to love.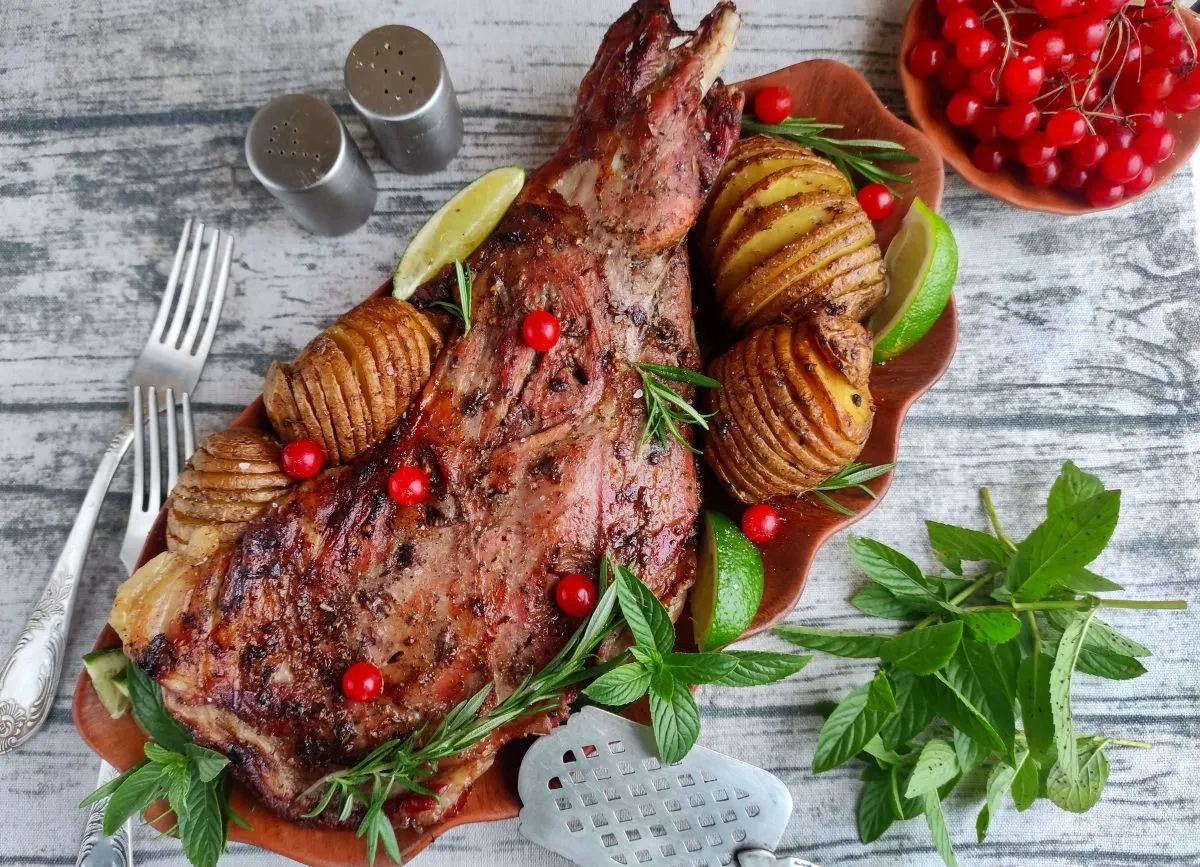 💜 Why You'll Love This Lamb Leg Recipe
A crowd-pleaser dish - Serving this at your table is going to get a lot of wows and ooo's.
Delicious - Tastes amazing and perfectly seasoned
Great value - This leg of lamb is pretty huge so you are bound to have leftovers to make another meal or enjoy on a sandwich.
Kid-friendly - You can beat a roast lamb and lots of lovely side dishes. The kids will love this one.
Ingredients Needed
Leg of lamb - Meat sections should naturally be gluten and dairy free, but check your labels to ensure that any additives are safe
Garlic cloves
Olive oil- you can also use avocado oil or grapeseed oil
Mustard
Honey or Maple syrup - this is your natural sweetener
Rosemary
Peppercorns
Coriander seeds
Lime
Potatoes
Oregano
Thyme
Black pepper
Paprika
Dried chilis
Clove buds (optional if you can't find it)
Sea Salt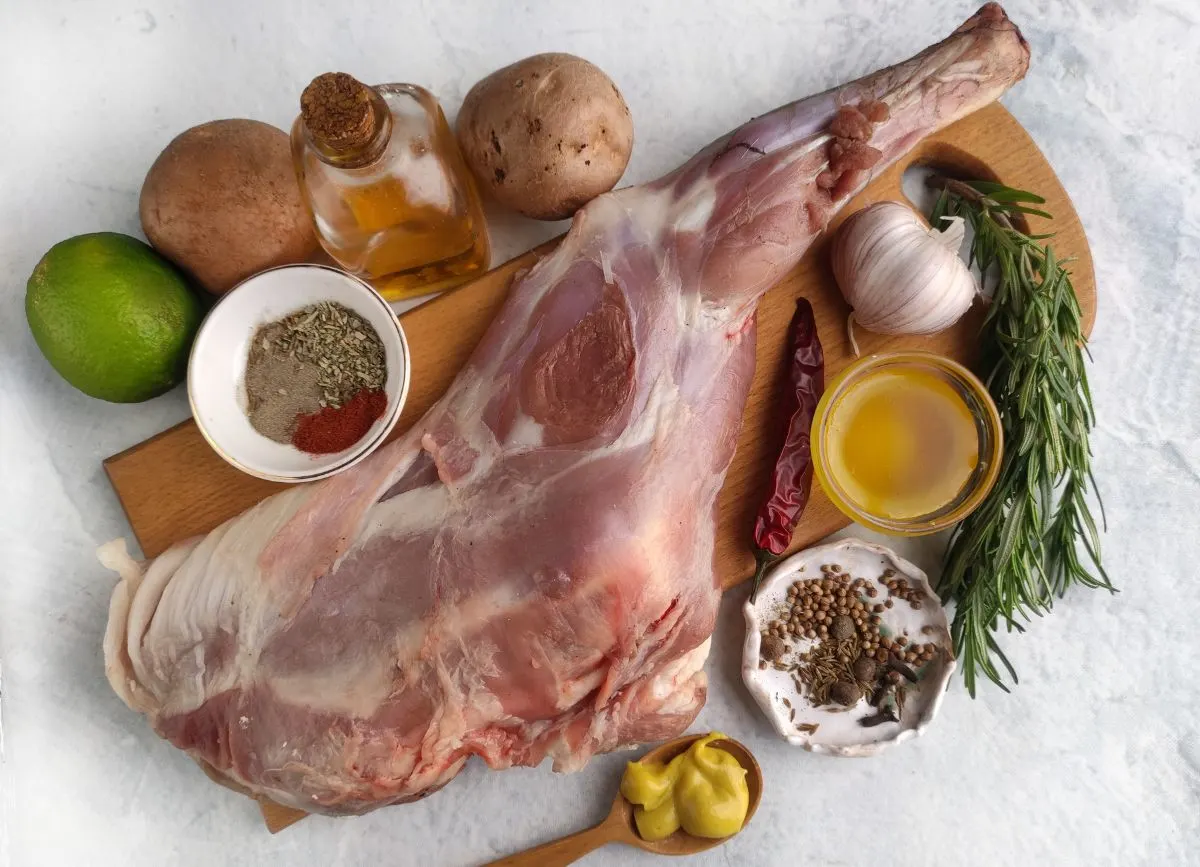 Helpful Tools
Baking sheet or baking dish
Pestle and Mortar
Measuring Cups and Spoons
Aluminum foil
Knife
Small bowl
Roasting rack
How To Roast A Leg of Lamb
Preheat the oven to 350F. The first thing you will need to do is prepare the lamb. You will need to remove any outer packaging and then pierce the flesh with your knife making deep slits. This is so the marinade and seasoning will really rub into the leg of lamb.
Take the coarse spices and add them to a pestle and mortar. You will want to grind them up as much as you can. Then add these spices to a small bowl along with the salt, 1 tablespoon of lime juice, honey or maple syrup (whichever you are using), olive oil, mustard, and crushed garlic. Give all of these ingredients a good stir to ensure that they are combined together. This is your marinade for the leg of lamb.
Now take your aromatic mixture and rub it into the lamb leg on all sides. You can use your hands for this or a pastry brush if you prefer. Your hands will be the best tool as they can ensure that everything is covered. Set aside while you prepare the baking sheet and potatoes.
Rinse the potatoes and pat them dry. Cut slices into the potatoes about ¾ through. You can see in the pictures how they should look. Brush the sliced potatoes with the remaining marinade. Cover a baking tray with foil, and place on a rack with the potatoes and lamb's leg on top. Place the leg of lamb and potatoes into the oven.
Cook for 1 hour and 30 minutes. Turn off the oven and leave the dish for 10 minutes. This will give the meat time to rest.
Transfer the leg of lamb and potatoes to your serving plate and garnish with rosemary, lime, and berries. Serve at the table and enjoy!
Recipe Variations
What if I can't get a leg of lamb? You can use lamb shoulder instead. If you do decide to use a lamb shoulder it is advisable to cover it with aluminum foil and then remove it for the last 30 minutes. Cooking time might vary a little but not much.
Do I need to use all of these herbs? Roasting a whole leg of lamb is down to personal preference. This combination of fresh herbs really adds to the flavor, but if you want to omit some of them or replace them with other herbs you love then go for it! Mint is one of the more popular flavors you expect with a lamb leg recipe but fresh mint jelly is a great option to use alongside this recipe or as an alternative.
Don't have any lime? Lemons, lemon zest, and lemon juice will work just as well with this recipe.
Can't get a leg of lamb? This marinade would work well with lamb chops.
Tips & Tricks
Always make sure that you let the meat rest when it is removed from the oven. This helps the juices within the joint of meat to redistribute. If you try and carve straight away then it won't taste as juicy or flavorsome. This is an important element.
Be careful when removing the lamb from the oven, it is a heavy piece of meat and it will certainly be hot.
It is best to use a bone-in leg of lamb rather than a boneless leg of lamb as it can help to keep the meat juicy and moist when cooking.
Storage
The leg of lamb is a joint of meat that is best served at the table once it has had time to rest. However, you will likely have leftovers once everyone has finished their meals. If that is the case remove the meat from the lamb leg bone and store it in an airtight container in the refrigerator for 3-4 days.
FAQ
Should I sear the lamb before cooking?
This recipe doesn't require you to sear the lamb before cooking, but some people prefer to do this method. Searing locks in the flavor so you could do this for a few minutes before adding to the baking sheet and putting it in the oven. It helps to enhance flavor and lock in moisture. However, it isn't essential for this recipe.
Can I make this recipe ahead of time?
Yes, of course! This is a joint of meat that will benefit from resting time. You can make it and then let it cool completely before covering with foil and putting it in the refrigerator until you need it. It is best to make up to a day ahead if you need to.
Should I cover the leg of lamb with aluminum foil when cooking?
There is no need to cover the leg of lamb with aluminum foil. This joint of meat can withstand direct heat and there isn't a risk of burning or drying the meat out.
What should I do with any leftovers?
If you have leftover lamb then there are so many ways you can get extra value from one joint of meat. You could use the cooked lamb meat in a shepherd's pie, in a curry, or even enjoy the cold meat on a sandwich with a bit of mint sauce. Yum!
Are there any other methods to cook the bone-in lamb leg?
There are other ways you can cook this large cut of meat. You can use an instant pot. This will reduce the cook time significantly as you use high pressure to cook the lamb leg. But you could also use a slow cooker and slow roast the
Other dinner recipes
Easy lemon pepper chicken - Enjoy a taste of heaven with this Easy Lemon Pepper Chicken. A class chicken recipe that is simple to put together and is truly delicious. You will be making this time and time again.
Easy BBQ pulled pork quesadillas - Easy BBQ Pulled Pork Quesadillas are made with crispy, gluten-free flour tortillas stuffed full of mouthwatering and tender pulled pork, barbecue sauce, and gooey, melty dairy-free cheddar cheese. Yum!
Homemade Italian Meatballs - Here's a Homemade Italian Meatballs recipe that's hearty, with robust Italian meaty flavor and a hint of fresh Italian spices that is not only easy to make but really brings your gluten and dairy-free Italian recipes back to life.
Want some more, easy gluten and dairy free recipes at your fingertips? Grab our digital downloadable cookbook, The Classics, and get it delivered straight to your inbox!
The cookbook includes a special recipe that is ONLY available in that book, not on our site, and some of our other family favorite recipes. It also makes the perfect last minute stocking stuffer!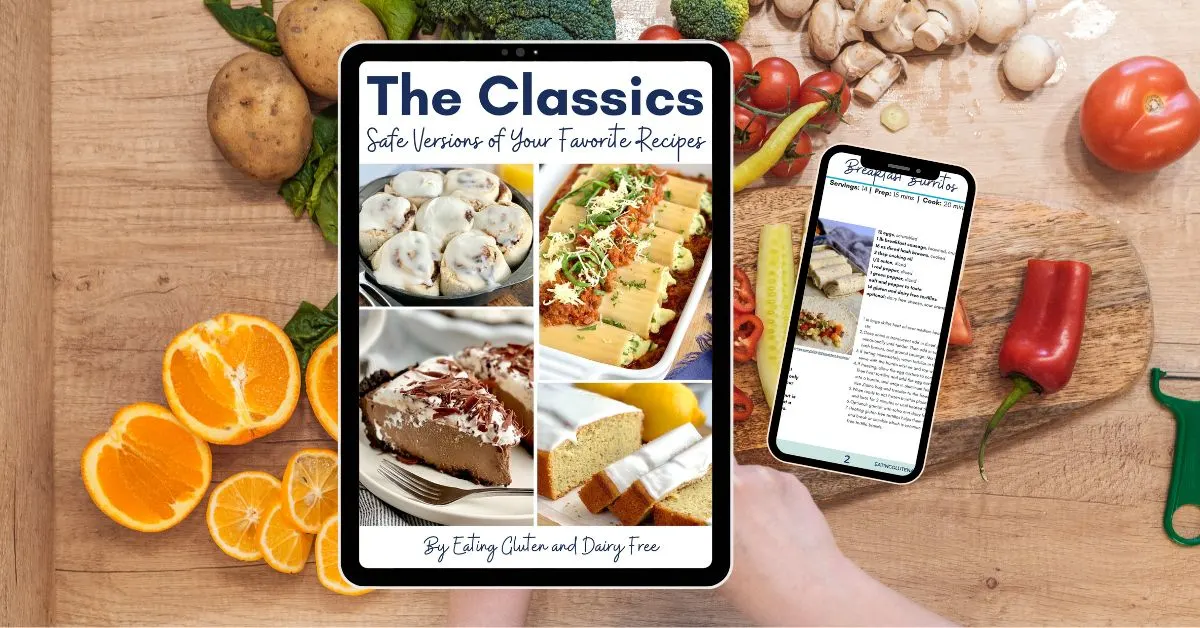 Make sure to follow us on Instagram and Pinterest to keep up with all our new recipes. Tag us if you make the recipe on IG or share your thoughts by commenting on the pin on Pinterest. If you try this recipe, feel free to give it 5 🌟 below
Eat Well and Feel Well
Pin It For Later