This Dairy Free Green Bean Casserole is a comfort food side dish with homemade creamy mushroom soup, tender green beans, and crispy French fried onions. This casserole recipe is the perfect addition to your meal, and no one can taste that its gluten free and dairy free.
Growing up, this dish was one of our must-haves at every extended family get-together and holiday meal.
And thankfully, mom prepared it often for our family meals too. I could never get enough of this dish– it was easily, one of my most coveted comfort meals.
Between the creamy sauce, the savory green beans, and the crunchy fried onions, my mouth waters just thinking about it!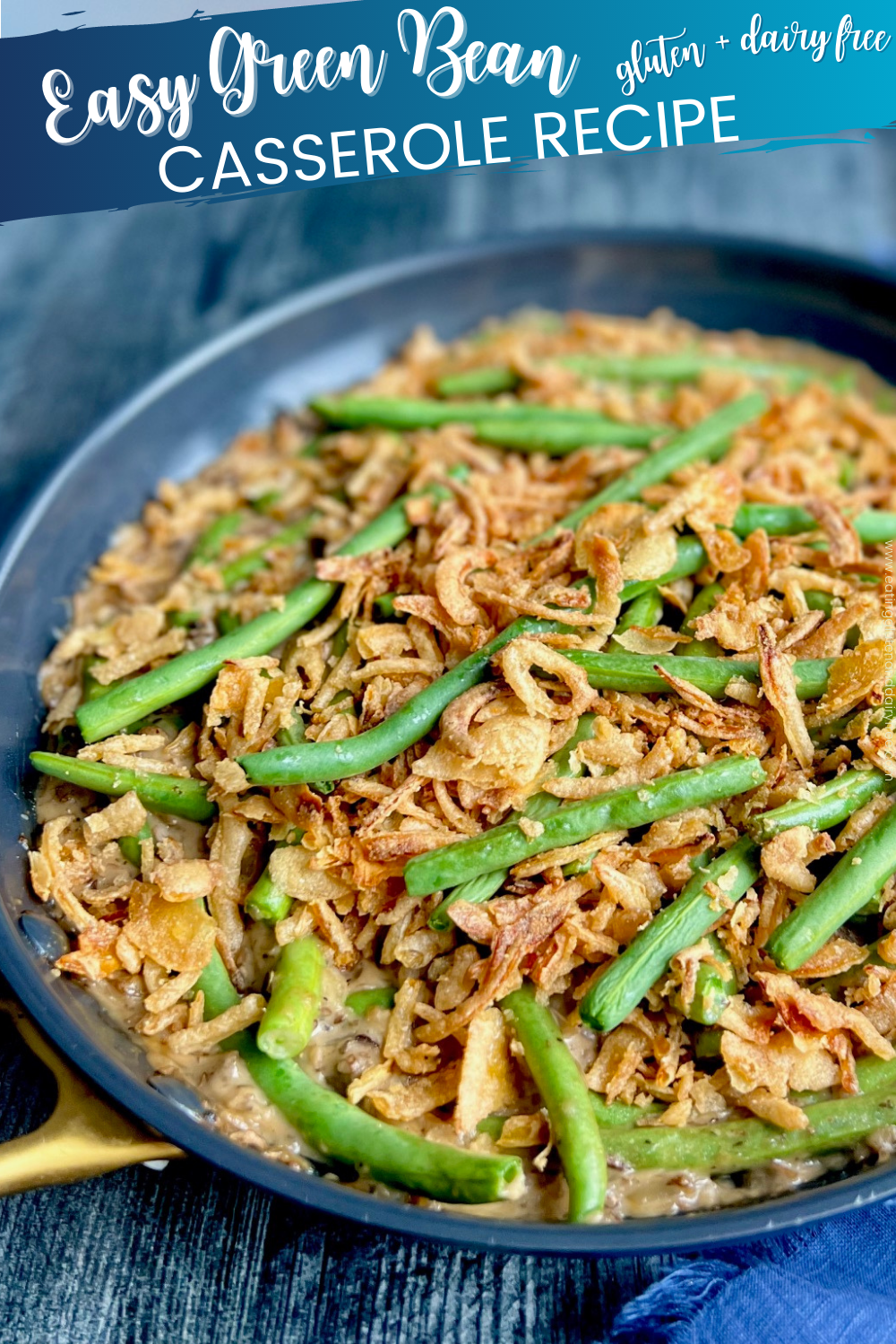 But then after going gluten and dairy free, I was devastated that I could not enjoy this delicious dish for years. Or at least, that's what I thought. I sure missed those fried, crispy onions.
Now, as new and safe products hit the grocery store shelves, more recipes like these are possible.
And we are soooo excited to share it with you. We like our green bean casserole dish just like we enjoy our apple crisp— with extra topping. So it'll come as no surprise that we have almost doubled the crispy fried onions in this recipe.
Why You Have to Make This Dish
It's perfect for holidays, but easy enough for everyday meals any time of year
It's loved by kids and adults
It's simple to scale and make more for extra leftovers or for serving a crowd
Tastes just like traditional green bean casserole- actually, even better!
Ingredients
Get more info on these ingredients in the recipe card at the bottom of the post.
grapeseed oil– vegetable or olive oil works too
dairy free butter— We use Earth Balance Buttery Sticks ; this is soy and egg free too
onion
garlic cloves— minced
mushrooms— Baby Bella or White are what we prefer
gluten free soy sauce— San-J Gluten Free Soy Sauce available here or Coconut Aminos; a soy free option
corn starch or arrowroot powder
vegetable broth or chicken stock— we use the Pacific Foods brand
dairy free half and half— Silk Dairy Free Half and Half Alternative; this is processed in a plant that also processes tree nuts, milk, egg, and soy. They state they follow stringent allergen quality procedures. Almond milk can also be substituted. Unsweetened almond milk is our preference over other dairy milk alternatives since it provides creaminess without adding any unnecessary flavor to the classic green bean casserole.
salt
ground black pepper
green beans— canned and drained or fresh green beans will both work. We have made it both ways.
gluten free French fried crispy onions— we order the Natural Earth Product brand from Amazon here. They are vegan and certified gluten free; soy and egg free too. These taste just like traditional fried onions and no one can tell they're gluten and dairy free. You'll love them topped on hamburgers and sloppy joes too.
optional— 2 slices of crispy, chopped bacon
Helpful Kitchen Tools
Large skillet or medium skillet
Measuring Cups and Spoons
Cutting Board and Knife
Small Bowl
Whisk
2-quart baking dish
How to Make Green Bean Casserole Recipe Dairy Free & Gluten Free too
Preheat the oven to 350°F.
Over the stovetop in a medium saucepan, heat the cooking oil and dairy free butter over medium-high heat.
Then add in the onion and garlic; sauté until the onion is translucent.
Next add in sliced mushrooms and cook 5-7 minutes, stirring often.
Mix in the gluten free soy sauce.
In a small bowl whisk the half and half, chicken stock, salt, pepper, and cornstarch. Add to the mushroom mixture.
Cook over medium heat, occasionally stirring while mixture thickens, 10 to 15 minutes.
Add in drained green beans, bacon and mix gently to coat.
Evenly spread into a 2 quart baking dish.
Continue towards baking or place plastic wrap on top and place in the refrigerator overnight.
Sprinkle French fried onions evenly over the top of the green bean mixture and bake for 10-12 minutes.
Remove from the oven and allow the dish to set for 10 minutes before serving.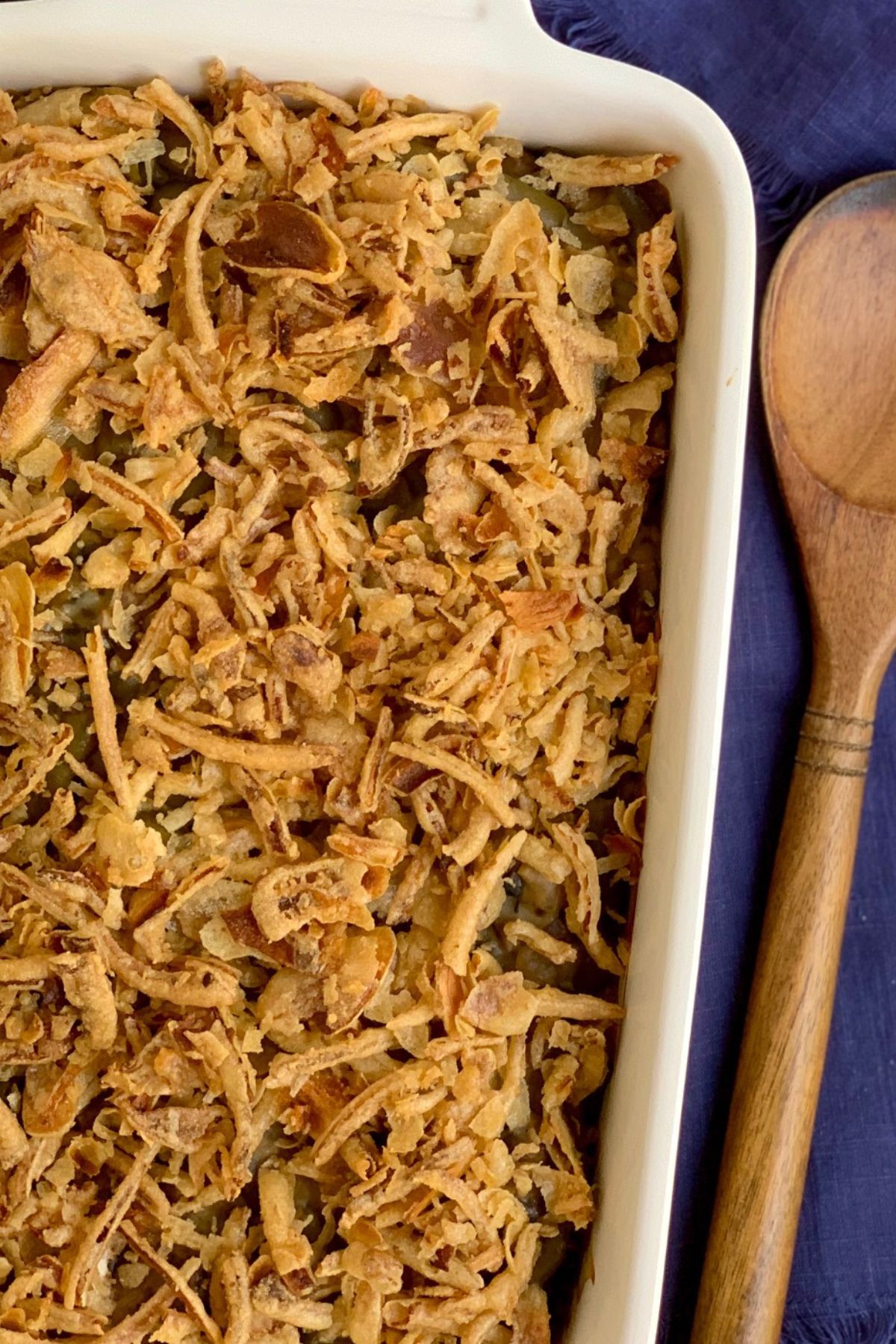 Storage
Let the leftovers cool down to room temperature and then store them covered in an airtight container.
They can be kept in the refrigerator for up to 3 days.
Preferably, don't store leftovers with the fried onions on them or they probably won't be crispy when you go to enjoy them again.
We recommend using the oven to reheat leftover green bean casserole until warmed through. You may want to add more crispy fried onions to the top of the casserole in this classic recipe when you want to reheat it.
Using the microwave is an option, but we find that it warms it up in spots, not thoroughly, or all the way through.
It also changes the texture of the fried onions on top. So, for this recipe, using the oven is the best way to reheat it.
Tips and Variations
Our family isn't a huge fan of mushrooms. For this recipe, we slice them into fairly small pieces. Feel free to leave your mushrooms in larger slices if that appeals to you or omit them if you don't think it would go over well at your dinner table.
You can make this a vegan green bean casserole by using the vegetable broth instead of chicken stock, omitting the optional bacon, and that's it! This is actually a very vegan friendly recipe as it can be naturally made as a vegan green bean casserole recipe.
If you aren't adding any chopped mushrooms to the creamy mushroom sauce, we recommend increasing the amount of green beans used, otherwise this dairy-free green bean casserole may be a little soupy.
If your mixture is too thick, you can add a little chicken broth or chicken stock (or whatever liquid you opted for).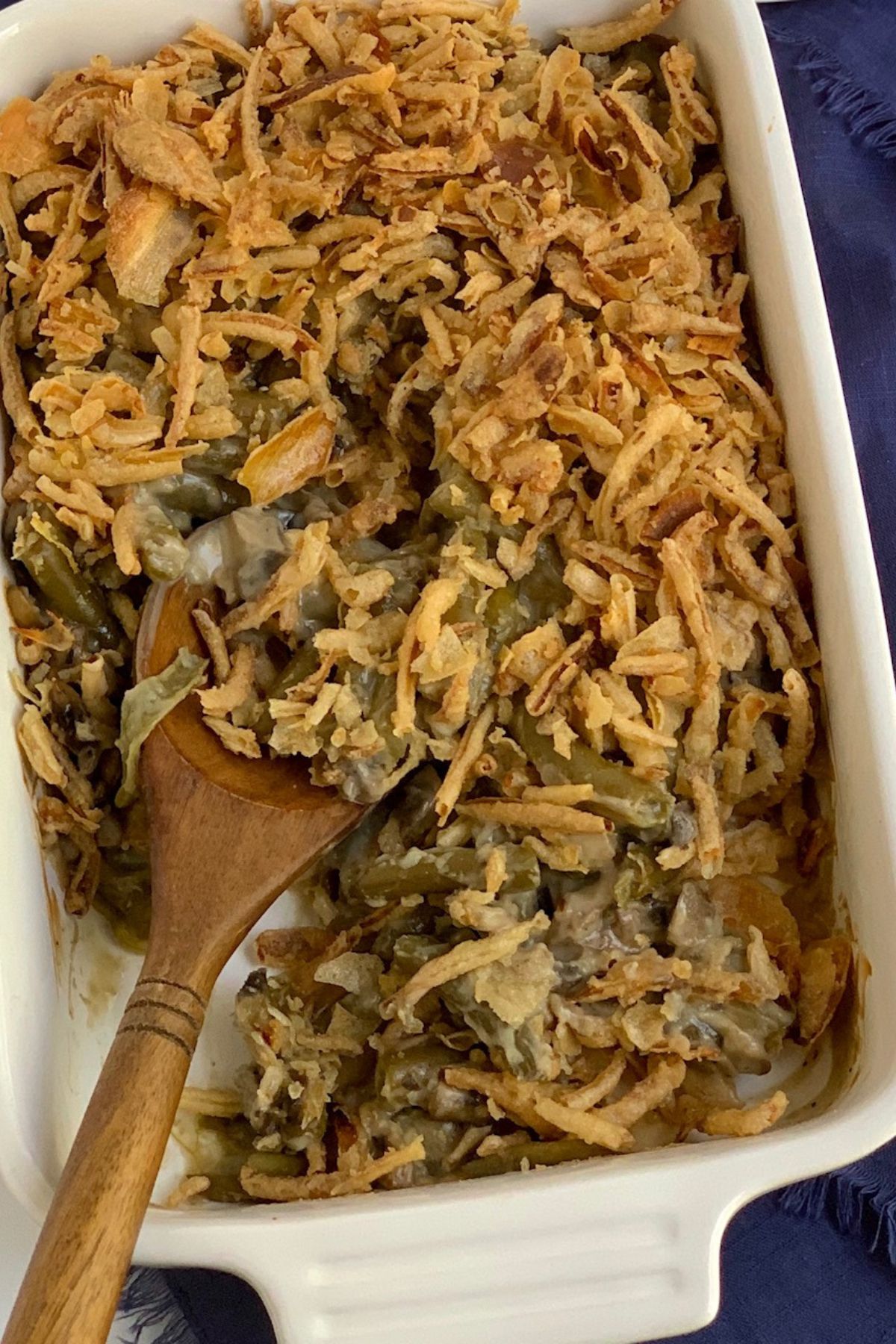 Can I double this recipe?
Yes! This recipe can easily be doubled using a 9×13-inch baking pan. We LOVE having leftovers and it's great when serving to a large party or gathering.
Can I make this dairy free green bean casserole recipe ahead of time?
You can prepare the mushroom and green bean mixture ahead of time and store it in the refrigerator overnight. Then, sprinkle the French fried onions over the top just before placing it in the oven.
Can I freeze dairy free green bean casserole?
Yes, you can freeze this classic side dish! To do so, let the casserole cool completely after baking and then cover with an airtight lid or wrap tightly with plastic wrap.
Place it in the freezer for up to two months.
When you're ready to enjoy this great recipe, thaw the casserole in the refrigerator overnight before reheating and serving. You can reheat at 350F for 15-20 minutes, or until it's warmed through again.
more classic recipes
creamy mashed potatoes— this easy potato dish perfectly complements the green bean casserole to complete any meal
crock-pot stuffing–– here is the easiest and yummiest way to enjoy stuffing, and you can feed this to a crowd without using precious oven space
bacon wrapped tater tots— you will love this combo as an appetizer, side, or even as the main meal. These tots perfectly feed everyone as a naturally gluten and dairy free meal.
lastly
Let's point out this side dish isn't only a must-have; it's also a favorite.
And it's a classic dish everyone loves seeing at the dinner table. What makes this recipe even better is you can't tell it's gluten and dairy free– making this a win-win for everyone.
Make sure to follow us on Instagram and Pinterest to keep up with all our new recipes. Tag us if you make the recipe on IG or share your thoughts by commenting on the pin on Pinterest. If you try this recipe, feel free to give it 5 🌟 below
Eat Well and Feel Well
Pin It For Later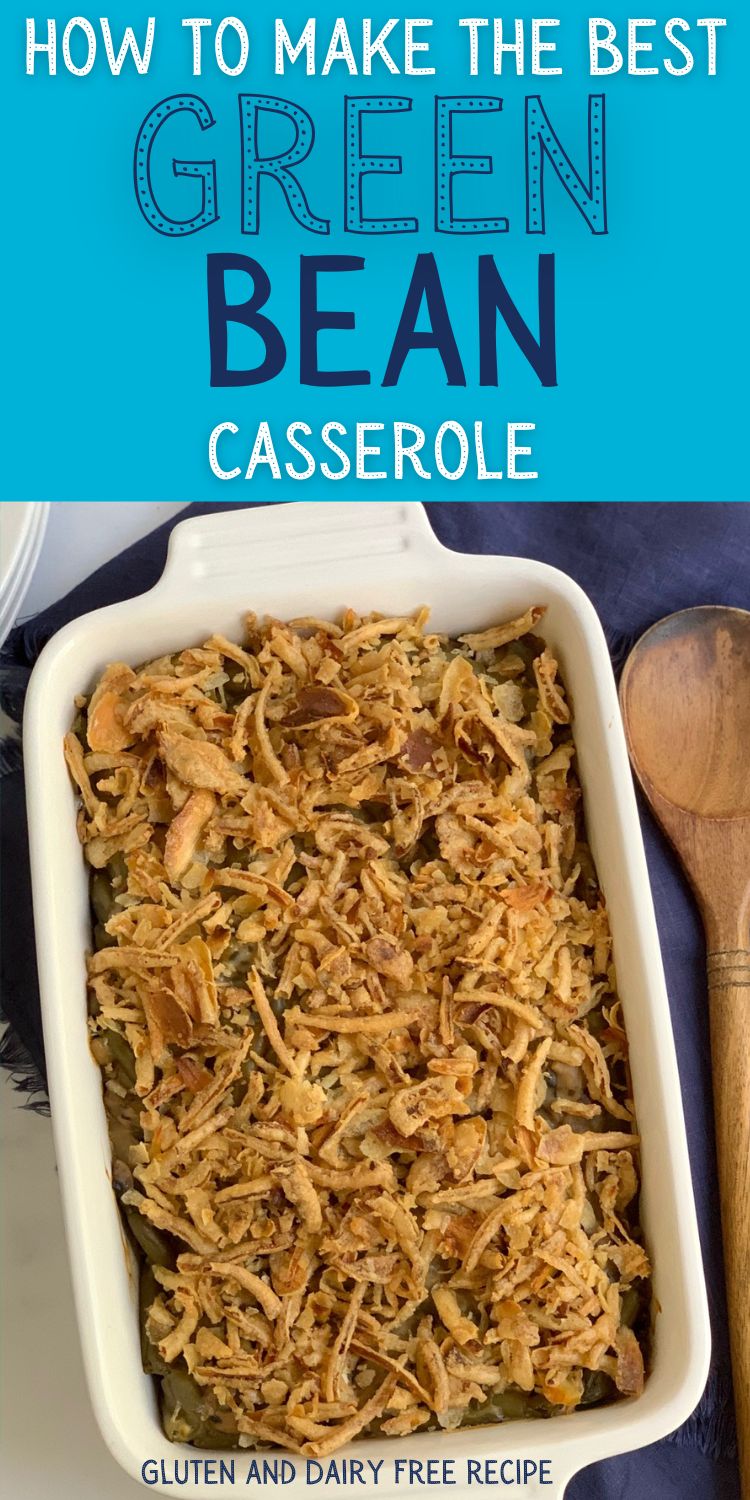 This recipe was inspired by a similar recipe found at Crunchy Creamy Sweet. I altered the ingredient amounts and made the needed substitutes for a safe gluten and dairy free recipe.